Roots Corporation Mission
What we can do to help our customers build their futures
The role of Roots Corporation
In order to provide lifestyle and societal support toward the goal of improving the "Quality of Life" of people around the world,
Roots Corporation has constructed a platform based around 5 pillars.
Medical business to support health.
Creative business to establish lifestyles and business styles.
Real estate business to realize asset utilization and pleasant living environments and introduce valuable properties to people.
M&A consulting business to reduce risk and build sound companies.
Trade distribution business to expand business possibilities.
We will go forward contributing to the QOL of people around the world based on these 5 businesses.
Quality of life refers to the quality of people's lives as well as the social quality of their lifestyles, and is the concept of how much people can live their lives in their own ways and find happiness in their lives.
The "happiness" in QOL refers to the degree of sound mental and physical health, favorable human relationships, a meaningful career, a pleasant living environment, sufficient education, hobbies, and leisure time.
Roots Corporation understands things from the point of view of lifestyle and economic environments and has constructed a proprietary platform to support QOL with our variety of businesses.
The future we strive for
Roots Corporation maintains an understanding of the times to realize improvements in our customers' QOL, has flexibly constructed a variety of operations to be able to support the lifestyles and business styles of people around the world, and will continue to evolve to be chosen a best partner to our customers even 5 and 10 years in the future.
It is our desire to continue to be a company that can derive the ultimate solutions by providing the best proposals and support during any age.
What is Roots Corporation?
In order to improve customers' QOL, Roots Corporation is expanding our various business services at home and abroad to support both individuals and companies.
Our mission is to provide true value to our customers as business partners and realize improvements in their QOL.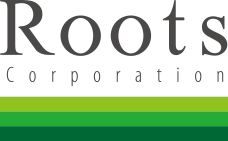 The corporate logo of Roots Corporation consists of 2 elements.
1. The word "ROOTS", meaning to support a business foundation for our customers
2. Three shades of green representing our business platform and meaning Trust, Value, and Creation.
The different shades of green represent the broadness and depth of the services we provide.
This is an expression of our idea of "providing true value to all of our stakeholders".