Company
Provide true value to customers
Message from Our CEO
We at Roots Corporation are a company founded based on the concept of "improving the QOL (Quality of Life) of people around the world".
We consider QOL to include all of the notions of "quality of natural life", "quality of lifestyle", "quality of span of life", "life worth living", etc.
 In order to contribute to improvements in the quality of life and the social quality of lifestyles of people around the world and to pursue to the extent to which people can live human life in their own way and find happiness in life, we are engaged in a broad range of businesses.
 "Happiness" includes a variety of factors such as sufficient education, sound mental and physical health, favorable human relationships, a meaningful career, a pleasant living environment, recreational activities, and leisure. If we do business only in one field, improvement of QOL that we strive to accomplish is limited.
 That is why we are engaged in "medical business", which leads to healthy minds and bodies, "M&A consulting", which leads to organizational growth, and "real estate", which leads to pleasant living environments; and based on these core businesses, we are also engaged in "distribution", which is essential to people's lifestyles, and "creative business", which is a way of designing how to live and how to work.
In pursuit of improved QOL, we strive to contribute to the improvement of the QOL of all people who come in contact with Roots Corporation, from not only our customers but also their families and companies, and the employees of our own company as well.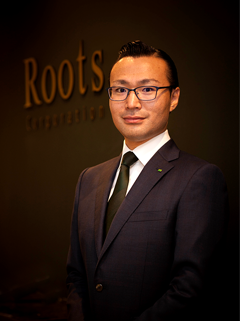 Genta Ankai, Chief Executive Officer
Company Overview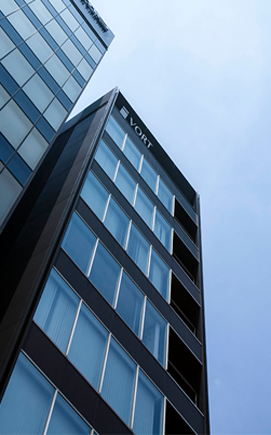 Company Name
Roots Corporation, Inc.
Address
VORT Nagatacho 6F, 2-7-2 Hirakawacho, Chiyoda-ku, Tokyo 102-0093
TEL

+81-3-6435-5766

+81-3-3222-0168
FAX
+81-3-6435-5767
Representative
Genta Ankai, Cief Executive Officer
Founded
November 1, 2016
License/Registration
Real Estate Agency Governor of Tokyo (1) No. 100002
Affiliated Associations
All Japan Real Estate Association
Real Estate Guarantee Association
Corporate Philosophy
"Contribute to the improvement of Quality of Life (QOL)"
The concept of human happiness differs throughout the world's many cultures, values, environments, religions, histories, etc.
At Roots Corporation, our concept is to engage in all of these respective QOL improvements with all our power, without being bound by race, national borders, religion, etc.
Company History
| | |
| --- | --- |
| November 2016 | Established Roots Corporation, Inc. in Shibuya Ward |
| December 2016 | Acquired Housing Agent License |
| May 2017 | Headquarters transferred to Hirakawa District, Chiyoda Ward |
| June 2017 | Increased capital stock to 10 million 750 thousand yen |
Executives/Advisors
Cief Executive Officer Genta Ankai

2001 Joined Hitachi Plant Construction Company (currently Hitachi Plant Service, Inc.)
2006 Moved into the real estate industry, starting in investment apartment real estate brokerage, and was appointed as an executive.
Gained experience with overseas expansion, and established Roots Corporation Co., Ltd. in 2016.

Company Director and Executive Vice President Yu Iseki

Studied Anglo-American law and medical law in the Masters and Doctoral courses at the Tokyo University Graduate School for Law and Politics.
Engaged in research for the Ministry of Health and Welfare's "Biotechnology and Bioethics Legal Policies" and "Regional Medical Care Basic Development Promotion Research Project".
"Corporate Social Responsibility (CSR)" committee member at The Japan Institute for Labour Policy and Training
Japanese construction leader for "Education Evaluation Systems" at Tsinghua University in China.

Company Director Masayuki Mochizuki

Starting his career as an analyst in Japanese securities company, he was in charge of the industries of real estate, transport, chemistry, textiles, etc. before transferring to research sales for institutional investors in Hong Kong. After moving into foreign capital group securities company and gaining experience in research sales in London, he returned to Japan in 1990 and resumed his work as an analyst in Tokyo. As an analyst in charge of a machine and shipbuilding sector, until 2010 he worked at Morgan Stanley Securities (currently Morgan Stanley MUFG Securities), JP Morgan Securities, etc. In the analyst rankings by Institutional Investors Magazine and Nikkei Veritas, he constantly ranked among the top 5 from the early 90s until 2010.
From 2010, utilizing his experience as an analyst he was in charge of research products and marketing as a research manager. From 2014 to 2015 he was IR manager at Merrill Lynch Japan Securities where he was in charge of designing and managing the largest-scale conferences in Japan as well as various IR events.
Organization Chart
Access
Roots Corporation, Inc.
Trade Akasaka Building 7F, 5-4-14 Akasaka, Minato-ku, Tokyo 107-0052
TEL:+81-3-6435-5766TEL:+81-3-6435-5766